<![CDATA[
Every website must live somewhere. Where yours lives depends on the hosting company you select for your site.
I've used numerous hosting companies since I started building them in the late nineties. My current preferred hosting provider is Bluehost.
The sites I've hosted with Bluehost run quickly and are easy to setup and manage. They offer annual plans for a discount and include a free security certificate which is important if you don't want your website visitors to see a big, ugly, "This Site is Not Secure" message in their browser when they come to visit.
Go ahead and click here to establish hosting with Bluehost. The rest of this project assumes you are using Bluehost for your web hosting provider to keep the instructions clean and simple.
Get Started with a Hosting Plan
On the Bluehost website, click the green "Get Started Now Button".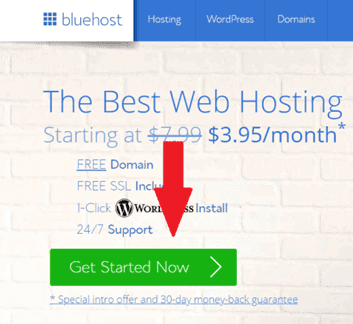 Choose a plan for your web hosting. The higher priced plans offer additional features, one of which is unlimited storage space.
This is something I HIGHLY recommend you consider. You won't have to worry about how many files you are adding to your website or other websites if you choose this option.
The next page will prompt you for the Domain Name, or website address, that you want to use for your website. You have two options, you can register a new website domain, or you can use a website domain that you already own. I will assume you are registering a new website domain.
A Brief Detour
Before you register your domain, it will pay to do a bit of research and plan your strategy for the domain name you select.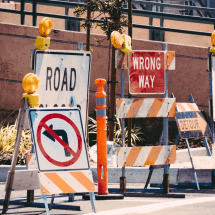 Brainstorm some ideas about what you would like to use as an address for your website. Some rules of thumb to keep in mind are:
Relevant to the Topic of Your Website
Short, Easy to Spell Words
Words that people search for about the topic of your website
Avoid homophones (like way and weigh)
Keeping these in mind will help you avoid a domain that's confusing and hard to direct people to.
*** Warning ***
It is all too easy to get hung up on this phase. I recommend you spend no more than half an hour on brainstorming and researching your website address. As important as it is, a website address is nowhere near as important as the content you put on it when it comes to how successful the site will be.
Use the search tool at Bluehost.com to find out if the domain you want is available.
Finishing up Hosting Setup
Now that you've found the perfect domain name, you can finish setting up your website hosting.
Enter the name you would like to register in the New Domain registration box and click the "next" button.
You'll have two options on the next screen for creating your account. You can either use a Gmail account to log in or enter your details to create an account.
Once your account is created select the package and length of time you want to purchase, enter your payment details and click the "Submit" button.
Bluehost will create your account and you will be ready for the next step in setting up your website.
Take a Break
Now is a good time to take a minute to stand up and stretch your legs. Get a beverage and work the kinks out of stiff muscles.
For the next fifteen minutes get away from your computer screen. It will help you regroup and be motivated for the next step, Setup WordPress for your Website.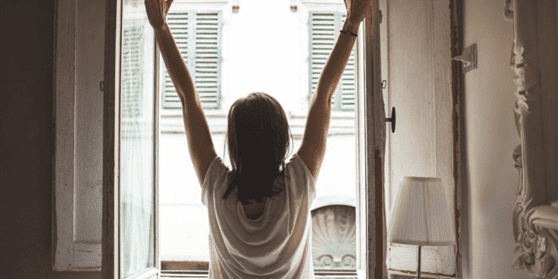 Read the previous article in this series, "Let's Build a Website! Part Two – Start with a Solid Website Plan!"
Full Disclosure
Some of the links in this guide are Affiliate Links. That means that if you use them and then make a purchase, I will be paid a commission. I only recommend products and services that I use myself and believe will be useful to you.
PS – If you want to get this entire series as an easy to read, downloadable and printable PDF I've made it available for purchase. Buy your copy today for only $9.95!
]]>