Kanban Card Template for Excel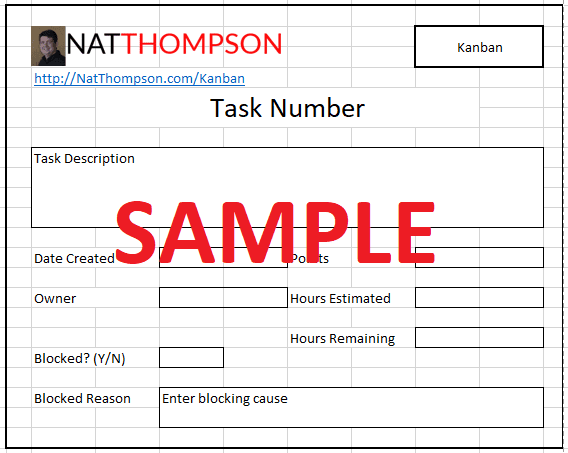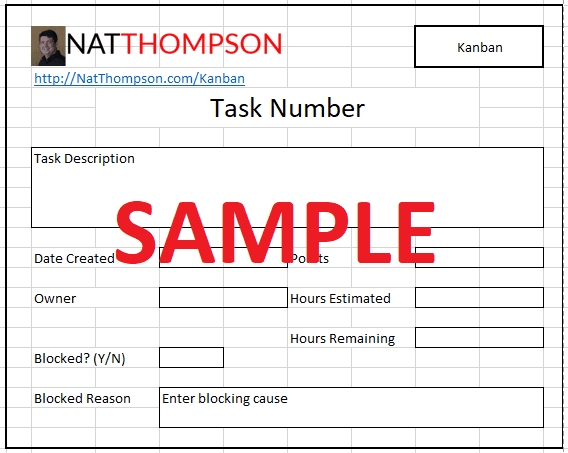 The Kanban Card Template for Excel provides you a standard format for your work items in progress. Fill in the information needed to give everyone an at-a-glance knowledge on what the work entails right from your physical Kanban board.
To get your free copy, use the registration form below to sign up for my Kanban Cards newsletter.
What is a Kanban Card?
I've defined Kanban in a previous post but let me specifically define what a Kanban card is. In a physical or virtual Kanban system the kanban card represents a single work item that is being tracked through the workflow system. It contains enough information so that anyone looking at the kanban board will know what the item is, who is assigned to it, and what it means for the work item to be complete.
What's the benefit of the Kanban Card Template for Excel?
In a word? Communication.
The kanban card's sole purpose for existing is to clearly and quickly communicate the status of the work to be achieved and who is responsible for it. It shouldn't take any looking at the kanban board more than a few seconds to fully understand where everything stands.
How does a template help?
The Kanban Card Template for Excel that I've created standardizes the information displayed on the card. The standard format makes sure every team member gets the same information for every work item in the system. As experience with the standard format grows, every team member becomes more efficient.
Less time has to be spent on deciphering the information and more time can be spent on executing the work or overcoming obstacles.
How is the Template Used?
I've kept this template super simple. All you have to do is open it up, enter your work item information and save it with a different name than the template. I would recommend using a name that ties to any ticket numbering system that you may have for work in process. That will make it easy to tie the file back to the work system.
Next, just print the card and attach it to your Kanban board. As work progresses through the system, move the card to the appropriate column on your Kanban board.
Done!
Get your copy of the template today to give your kanban system a boost.